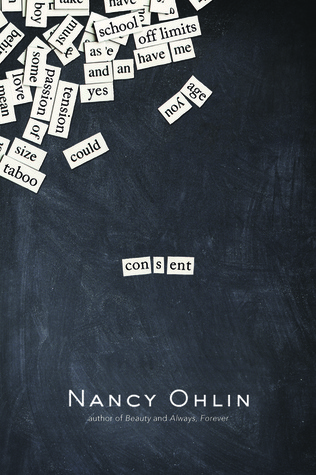 From Goodreads:
Bea has a secret.
Actually, she has more than one. There's her dream for the future that she can't tell anyone—not her father and not even her best friend, Plum.
And now there's Dane Rossi. Dane is hot, he shares Bea's love of piano, and he believes in her.
He's also Bea's teacher.
When their passion for music crosses into passion for each other, Bea finds herself falling completely for Dane. She's never felt so wanted, so understood, so known to her core. But the risk of discovery carries unexpected surprises that could shake Bea entirely. Bea must piece together what is and isn't true about Dane, herself, and the most intense relationship she's ever experienced in this absorbing novel from Nancy Ohlin, the author of Beauty.
My Review:
I feel like this book will be really controversial. Some people will love it others will absolutely hate it. Whichever one you happen to be I think everyone can take a little something from this book.
Things I liked:
1) Bea- I really liked her. She made some bad decisions and I really hoped she came to her senses at times but she really didn't. Clearly I looked over that though.
2) Mr. Rossi- I know he was suppose to be like a villian I guess but I really liked him. I don't agree what he did but still really enjoyed him.
3) The writing was so fast paced and great!
Things I was not fond of:
1) I feel like the ending just ended to abruptly. The book overall was to short so the ending felt rushed to me. I wish we had at least like 25-50 more pages so it could have ended stronger.
My rating:

♥♥♥♥
*I received this from Edelweiss on a read and review basis*