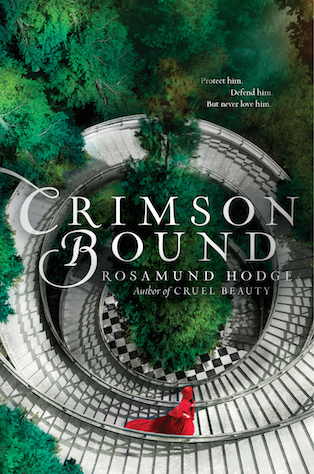 From Goodreads:
When Rachelle was fifteen she was good—apprenticed to her aunt and in training to protect her village from dark magic. But she was also reckless— straying from the forest path in search of a way to free her world from the threat of eternal darkness. After an illicit meeting goes dreadfully wrong, Rachelle is forced to make a terrible choice that binds her to the very evil she had hoped to defeat.
Three years later, Rachelle has given her life to serving the realm, fighting deadly creatures in an effort to atone. When the king orders her to guard his son Armand—the man she hates most—Rachelle forces Armand to help her find the legendary sword that might save their world. As the two become unexpected allies, they uncover far-reaching conspiracies, hidden magic, and a love that may be their undoing. In a palace built on unbelievable wealth and dangerous secrets, can Rachelle discover the truth and stop the fall of endless night?
Inspired by the classic fairy tale Little Red Riding Hood, Crimson Bound is an exhilarating tale of darkness, love, and redemption.
My review:
I have alot to say about this book. Most not so positive. I will start with those aspects and then go into why I liked it.
Things I was not fond of:
1) The retelling of Little Red Riding Hood was not very prominent. It was a subject that was scanned over but never really mentioned in detail.
2) The love triangle- This was just annoying! I am not a fan of love triangles anyway but this one in my opinion was done bad.
3) The world building was pretty much non existent. Literally I could not understand some of the things mentioned because it was never fully explained.
Things I liked:
1) Rachelle- As a character this girl was awesome. Yes she had her flaws but I didn't mind them to much.
2) The concept of the book.
Please keep in mind that this is my opinion only. I gave this book 3 stars purely because it had potential and I really enjoyed the first couple of chapters. After that it fell flat!
*This book was provided by Edelweiss for review purposes.*