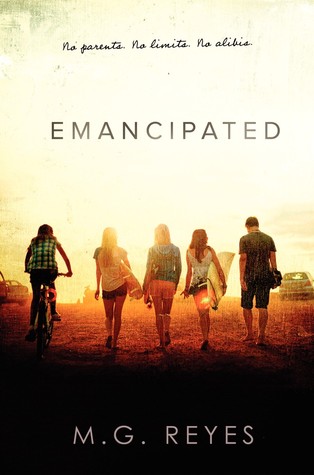 From Goodreads:
The good girl, the bad boy, the diva, the hustler, the rock star, and the nerd. Six teens legally liberated from parental control for six different reasons, all with one thing in common: something to hide.
Now they're sharing a house in Venice Beach, acting like a family, and living their lies. No parents. No limits. No alibis. One witnessed a crime, another might be a murderer—and one's been spying on them all.
As they cling to a fantasy of freedom and slowly let down their guards, the past creeps up on them. And when one of them gets arrested, everyone's carefully constructed facade comes crumbling down.
In this steamy, drama-filled series, relationships are tested and secrets revealed as lies threaten to destroy their perfect setup.
My review:
This book was more of a meh kind of book. Lets get on to why :)
Things I liked:
1) I enjoyed the perspectives of all 6 characters. Each one had there own story line but also they intertwined.
2) The premise seemed interesting. 6 teens emancipated living together to me sounded intriguing.
Things I was not fond of:
1) I felt like the Emancipation thing was kind of skimmed over. Some was explained but not in great detail.
2) There was some drug use in this book. I mean I do not care that people do drugs but its really not something I like to read about most times.
3) I felt as though there were no change in voice in characters from chapter to chapter. I had to look at the top to see who I was reading about because they didn't talk or act differently.
4) I also felt like the pacing was rather slow. It took me a bit to get into. At times I was kind of bored
My rating:
♥♥♥
*I received this book from Edelweiss on a read and review basis*