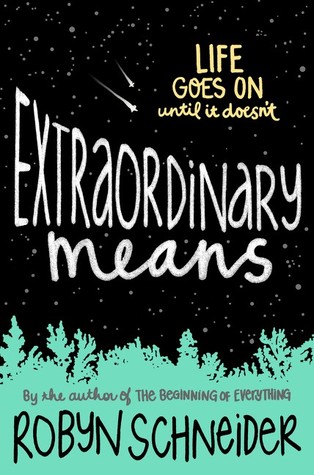 From Goodreads:
At seventeen, overachieving Lane finds himself at Latham House, a sanatorium for teens suffering from an incurable strain of tuberculosis. Part hospital and part boarding school, Latham is a place of endless rules and confusing rituals, where it's easier to fail breakfast than it is to flunk French.
There, Lane encounters a girl he knew years ago. Instead of the shy loner he remembers, Sadie has transformed. At Latham, she is sarcastic, fearless, and utterly compelling. Her friends, a group of eccentric troublemakers, fascinate Lane, who has never stepped out of bounds his whole life. And as he gradually becomes one of them, Sadie shows him their secrets: how to steal internet, how to sneak into town, and how to disable the med sensors they must wear at all times.
But there are consequences to having secrets, particularly at Latham House. And as Lane and Sadie begin to fall in love and their group begins to fall sicker, their insular world threatens to come crashing down. Told in alternating points of view, Extraordinary Means is a darkly funny story about doomed friendships, first love, and the rare miracle of second chances.
My Review:
I will not lie. I requested this book but when I received it I totally forgot about it. So I went into it blind and boy did it surprise me.
Things I Loved:
1) Sadie- The moment she was introduced I knew I liked her. She is such a strong, sarcastic and funny character. If you read this and don't fall in love with her I would be surprised.
2) Lane- I thought he was such a sweet character. He was an awesome friend and such an optimistic character.
3) I loved the little group of friends. They all cared about each other in some form. It was great to see a group of teenagers be friendly with each other( This could be because I have read about some horrible teens the last few books)
4) The dual perspectives of Sadie and Lane were great. I always enjoy these types of books.
Things I was not fond of:
1) The beginning was kind of slow but once it got going I could not put it down!
2) I wish Latham House was explained more.(This is me nit picking though but it was a major a part in getting the rating it did)
I loved this book. I would recommend it to anyone. I think its one of those books you need to read at least once because its so sweet. The rating I gave does not mean its a bad book I just felt as though some things in the book were unnecessary.(I cannot say them just read it!) This book made me laugh, cry, and just melted my heart. Just go pick it now :)
My rating:
♥♥♥♥
*I received this book from Edelweiss on a read and review basis*