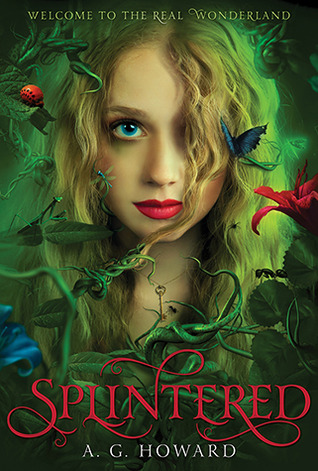 From Goodreads:
Alyssa Gardner hears the whispers of bugs and flowers—precisely the affliction that landed her mother in a mental hospital years before. This family curse stretches back to her ancestor Alice Liddell, the real-life inspiration for Lewis Carroll's Alice's Adventures in Wonderland. Alyssa might be crazy, but she manages to keep it together. For now.

When her mother's mental health takes a turn for the worse, Alyssa learns that what she thought was fiction is based in terrifying reality. The real Wonderland is a place far darker and more twisted than Lewis Carroll ever let on. There, Alyssa must pass a series of tests, including draining an ocean of Alice's tears, waking the slumbering tea party, and subduing a vicious bandersnatch, to fix Alice's mistakes and save her family. She must also decide whom to trust: Jeb, her gorgeous best friend and secret crush, or the sexy but suspicious Morpheus, her guide through Wonderland, who may have dark motives of his own.
My Review:
This book really surprised me. I will say I am not a huge Alice In Wonderland but wow this was great. Also what a gorgeous cover right?
Things I liked:
1) Alyssa- Dang this character was great. She definitely made this book way better.
2) Jeb- I really just want a whole book based on him because he was my favorite.
3) The world- I am not big on Alice in Wonderland but this book really was loosely based but that made it so much better!!!
Things I was not fond of:
1) If I had to pick one thing the ending was not that strong but I was really okay with it.
My rating:

♥♥♥♥♥